Menu for Groups
The Gosho no Hana Bento "Sakon no Sakura" and " Ukon no Tachibana" are inspired by the Heian era cooking style which was served at the Imperial court. They are served with seasonal, local ingredients that are visually enjoyable and eco friendly. The menu, dishware and lunch boxes are created under the supervision of Ayao Okumura, a researcher of traditional Japanese cuisine.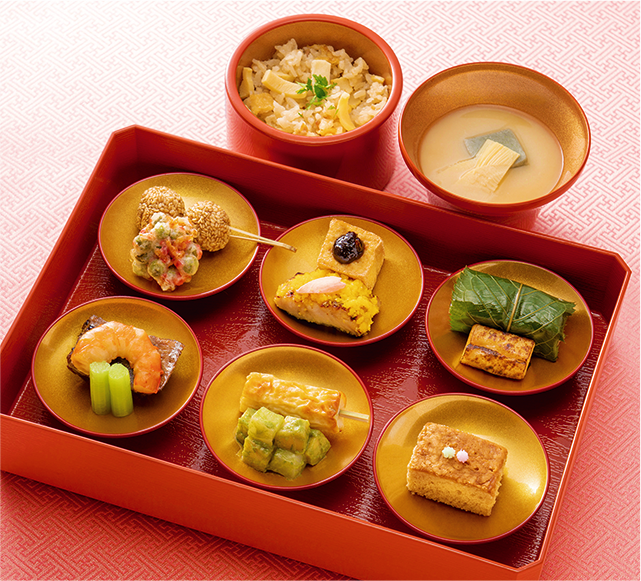 Spring
1st dish

Salty mackerel sushi wrapped with sakura leave and grilled yuba (tofu skin )

2nd dish

Grilled Spanish mackerel and deep-fried tofu with miso sauce

3rd dish

Kyoto chicken & Sesame balls and deep-fried peas & sakura shrimp

4th dish

Stewed herring and butterbur with deep-fried shrimp

5th dish

Bamboo shoots and squid mixed with leaf bud miso and Heian style fish cake

6th dish

Nobunaga sponge cake with Konpeito

Rice

Rice with bamboo shoots

Soup

Wheat gluten in white miso soup served with mustard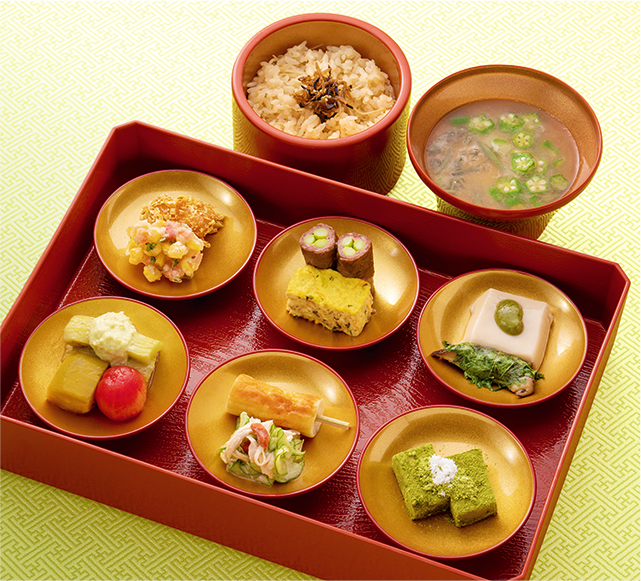 Summer
1st dish

Sesame tofu with miso sauce and grilled dried shiitake mushrooms wrapped with shiso leave

2nd dish

Rolled beef with udo root and tofu omlette

3rd dish

Yuba crusted conger pike with fried corn

4th dish

Stewed eggplant with edamame bean sauce. stewed pumpkin and grape juice stewed mini tomato

5th dish

Cucumber and chicken salad and Heian style fish cake

6th dish

Bracken-starch dumpling with green tea soy bean powder

Rice

Ginger rice with dried young sardines

Soup

Miso soup with junsai and lotus root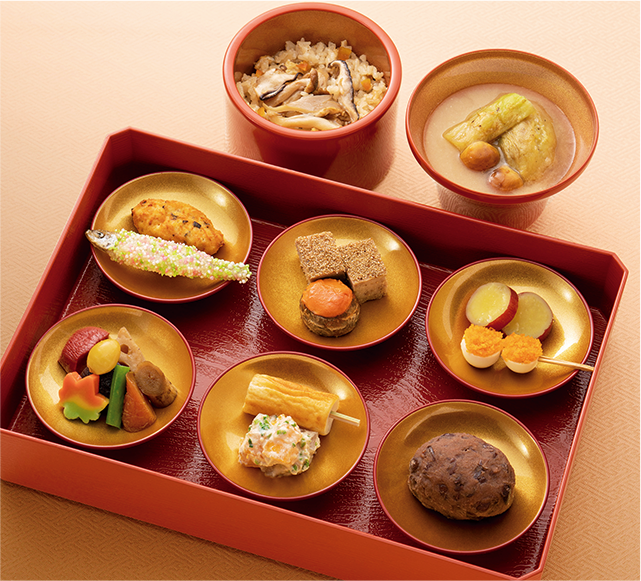 Autumn
1st dish

Stewed sweet potato with yuzu flavor and grilled egg

2nd dish

Kyoto chicken meatloaf and taro with sea urchin

3rd dish

Mini tofu ball and fried lake smelt

4th dish

Stewed root vegetables and red leave wheat gluten

5th dish

Persimmon and Japanese pear mixed with tofu sauce with Heian style fish cake

6th dish

Ohagi rice ball covered with red bean paste

Rice

Mushroom rice

Soup

Miso soup with eggplant and mushroom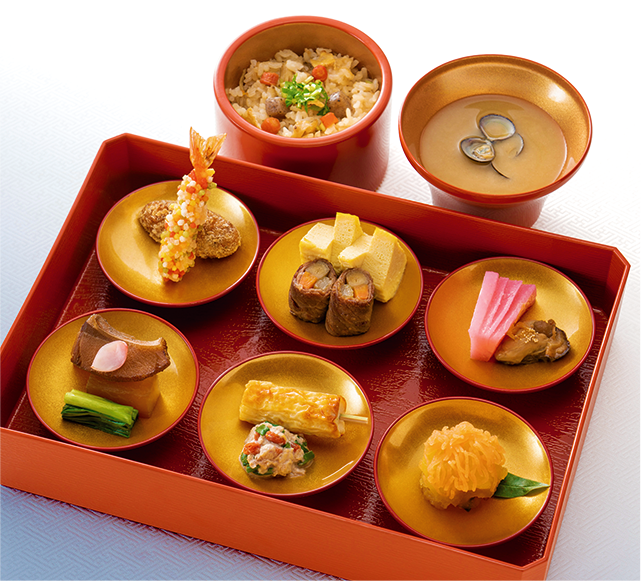 Winter
1st dish

Plum jelly and Oyster

2nd dish

Rolled beef and Kyoto style omlette

3rd dish

Deep-fried shrimp crusted with rice crackers and Taro croquette

4th dish

Japanese amberjack and daikon radish, Kujo leek and lily bulb petal

5th dish

Goji berries and Kyoto yuba mixed with walnut vinegar with Heian style fish cake

6th dish

Stewed apple with shredded marron paste

Rice

Japanese mixed rice

Soup

Basket clam miso soup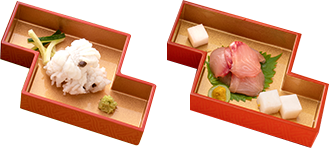 Gosho no Hana lunch box is for groups and reservations are required.
Please find a fax form for reservation below.
Due to the busy spring season,
reservations are not accepted during the following periods.
—
Sat. March 11th – Sun. May 7th
Mon. May 15th – Tue. May 16th