Grand Menu
The Grand Menu is inspired by traditional Kyoto cuisine using seasonal ingredients.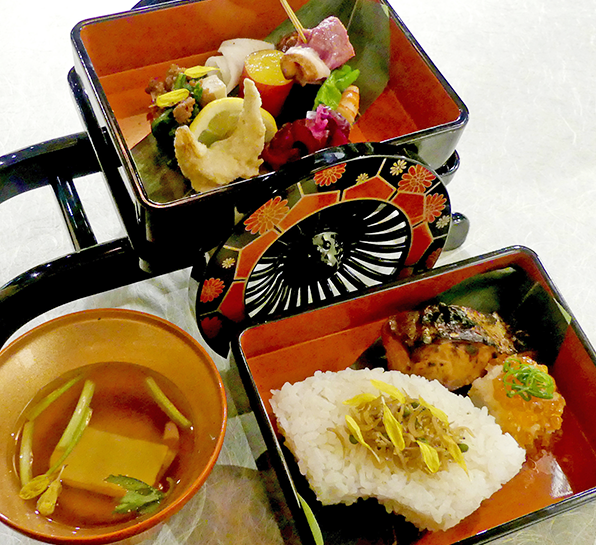 Goshoguruma Gozen (Imperial Carriage Course)
¥1,500(税込・サ別)
1st box:

Today's Obanzai
(home cooking style dish)

2nd box:

Main dish
Main dish
Seasonal fish
Steamed Kyoto Akadori flavored with sansho (Japanese green pepper) and aromatic spices
Deep-fried Kyoto pork fillet
Wagyu beef cooked with komekoji tomitsu (rice-malt syrup) and soy sauce on rice
※Please choose one.
Sai-sai Gozen Noodle / Rice
* Noodle or rice dish with today's Kyoto-style side dishes.
* Soft drinks, Alcoholic beverages or non-alcoholic beverages are available.
Noodles
| | |
| --- | --- |
| Cold udon served on a latticed bamboo tray with deep fried prawns and seasonal vegetables | ¥1,400 |
| Hot udon straight from the pot with deep fried prawns and seasonal vegetables | ¥1,400 |
| Hot udon topped with Wagyu beef cooked with komekoji tomitsu (rice malt syrup) and soy sauce | ¥1,200 |
| Hot Kyoto style udon cooked in miso broth | ¥1,200 |
Rice dishes
| | |
| --- | --- |
| Bowl of rice topped with deep fried prawns and seasonal vegetables | ¥1,200 |
| Bowl of rice topped with Kyoto akadori chicken and eggs, flavored with irizake | ¥1,100 |
| Bowl of rice topped with stir fried Kyoto pork with ginger, flavored with irizake | ¥1,100 |
| Bowl of rice topped with yuba (soft, delicate tofu skin) | ¥1,000 |
Light meals
| | |
| --- | --- |
| Cold udon served on a latticed bamboo tray | ¥680 |
| Hot udon straight from the pot | ¥680 |
| Hot Kyoto style udon topped with seasoned fried tofu | ¥680 |
| Hot udon topped with ume (pickled plum) | ¥700 |
Desserts
| | |
| --- | --- |
| Today's dessert | ¥800 |
| Today's assorted ice creams | ¥500 |
| Shaved ice (summer only) | ¥700 |
Drinks
| | |
| --- | --- |
| Coffee (Hot / Iced) | ¥380 |
| Black tea (Hot / Iced) | ¥380 |
| Green tea (Hot / Iced) | ¥380 |
| Orange Juice | ¥380 |
| Coca cola | ¥380 |
| Amazake (Japanese sweet drink made from fermented rice) | ¥550 |
Alcoholic beverages
| | |
| --- | --- |
| Beer in bottles | ¥600 |
| Beer in cans 350ml | ¥400 |
| Highball (whisky and soda) 350ml | ¥400 |
| Japanese sake Kyo no izumi 300ml (Kyoto,Gekkeikan) | ¥950 |
| Japanese sake Sumerabi 180ml (Kyoto,Tanzan shuzo) | ¥880 |
| Japanese sake Sumeragi no izumi 180ml (Shiga,Ota shuzo) | ¥670 |
Hot udon topped with Wagyu beef cooked with komekoji tomitsu (rice malt syrup) and soy sauce

Bowl of rice topped with stir fried Kyoto pork with ginger, flavored with irizake

Cold udon served on a latticed bamboo tray

Bowl of rice topped with deep fried prawns and seasonal vegetables